When we first got our gorgeous, red female Goldendoodles, we had visions of beautiful red puppies! Unfortunately, when breeding with the Bernedoodle, and given our various genetic combinations, that dream has not become a reality. Our current litter with Amber has produced quite a few gorgeous phantom puppies, some with browner markings and some with more red. Autumn, on the other hand, has given us 5 black puppies. And while these are certainly not the most popular based on color, they ARE the same home-raised, well-socialized puppies with excellent temperaments, AND (because of their color) they will be a more economical option for those wanting a hypoallergenic, non-shedding companion pet.
While our smaller male Bernedoodle, Jackpot, has his niche in working with our smaller Mamas and throwing his Merle coloring into the mix, our larger male, Buster, is known for adding some "Gold" to the mix. Each one of his litters so far has produced at least one "golden puppy," which has been as close as we've gotten to red. Now that we've gotten to see some of those Goldens mature, though, we've discovered something amazing: while many reds fade to ginger over time, these Goldens have deepened into beautiful gingers and reds! These puppies of Buster's have really blown us away!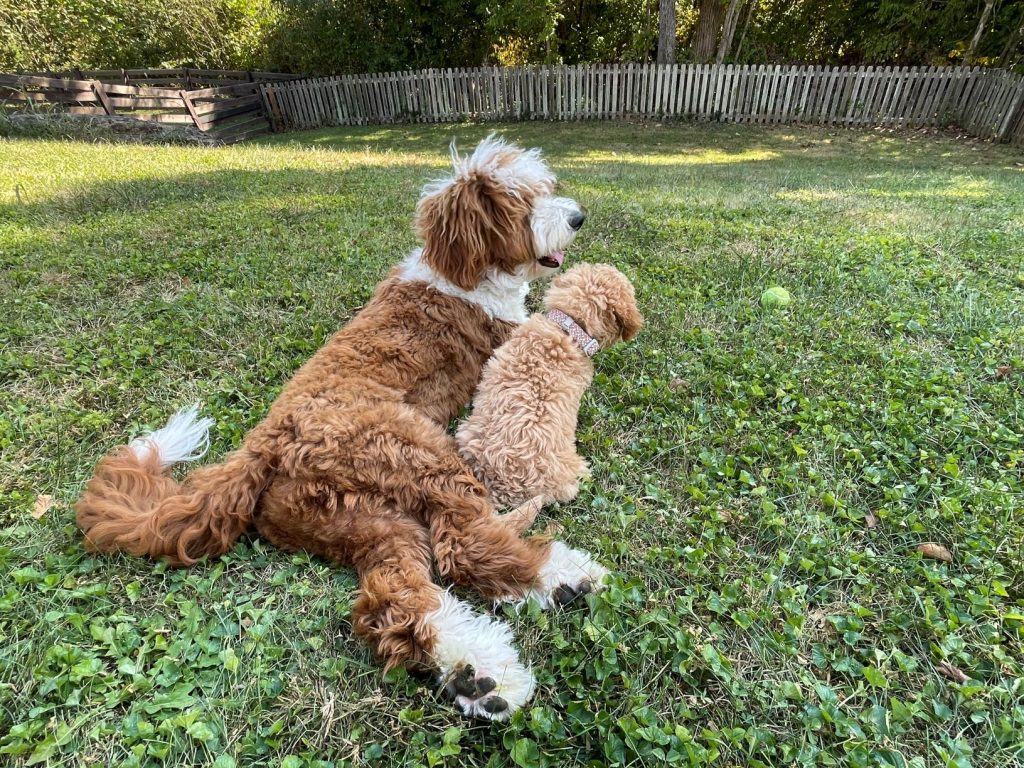 Here's a perfect photo to show you what I mean. On the left is a now-grown dog from Buster x Cammy (who is no longer one of our Mamas, since she is a standard and we now focus on minis). She was golden as puppy, the very same color as the puppy on the right, who was purchased as a companion for her from the recent Buster x Mvua litter. We can't wait to see this puppy grown up–but we bet they will make a gorgeous pair for this family!
And here is an unfurnished puppy, from an earlier litter of Buster x Mvua:

You can see that the unfurnished coat flattened out some, at least around the face and chest, but WOW, what beautiful coloring she has! And the family is in love with her temperament and personality as well.
All of this to say, while color and coat changes sometimes take getting used to, this consistent shift from golden to red in Buster's puppies has not disappointed! Here's one more for comparison:
:

When this puppy was born, we had a hard time deciding if she was golden or ginger (though we did settle on a deeper golden color in the final analysis). As an adult she ended up more ginger, but not quite red. However, the difference is still pretty evident.
Buster's next batch of puppies will be with Cheza, expected around December 5 (anticipated adoption date is January 30). This will be a first litter for the two of them, and we are very excited to see how they do together! Because of Buster's larger size (50-ish lbs), these puppies are expected to be larger mini/medium (35-45 lbs adult size).